Special places, specific needs 
Raffles hotels is a very particular brand, because it's very luxurious, and all the hotels are extremely specific, but we still have to present all those under the "Raffles" name. 
How can we showcase those hotels, all very different and special, with different offers and services, while maintaining a simple website structure and not lose users? 

Also, how to make the experience fluid and simple for hotel clients, but also for people who only want to reserve at the hotel restaurant for a dinner? 

One of the key points in the information architecture was to maintain simplicity of templates with high content personalization. Through some contextual facts on the hotel, very historical stories, allowing us to share the knowledge of those places but keeping it simple.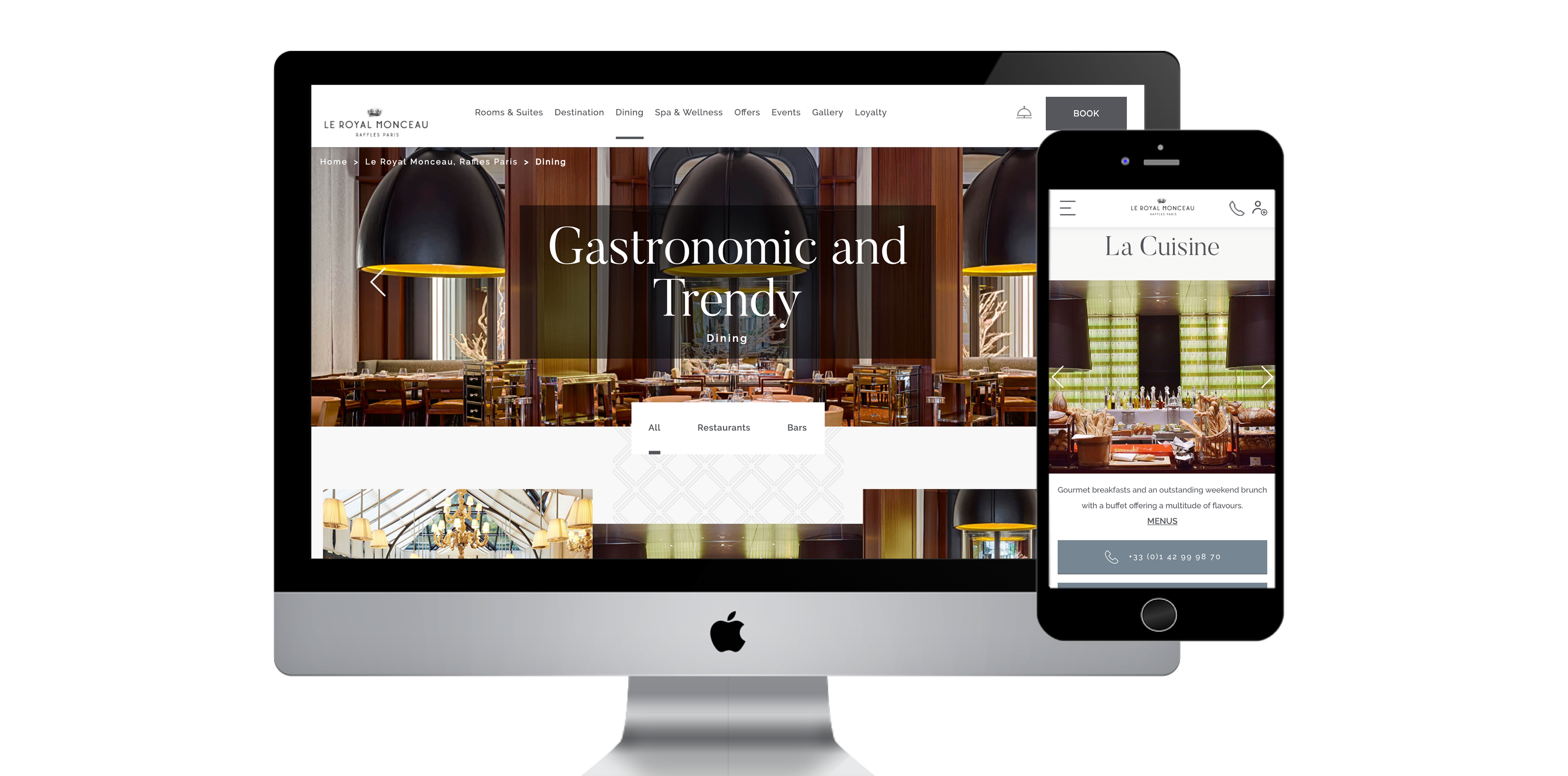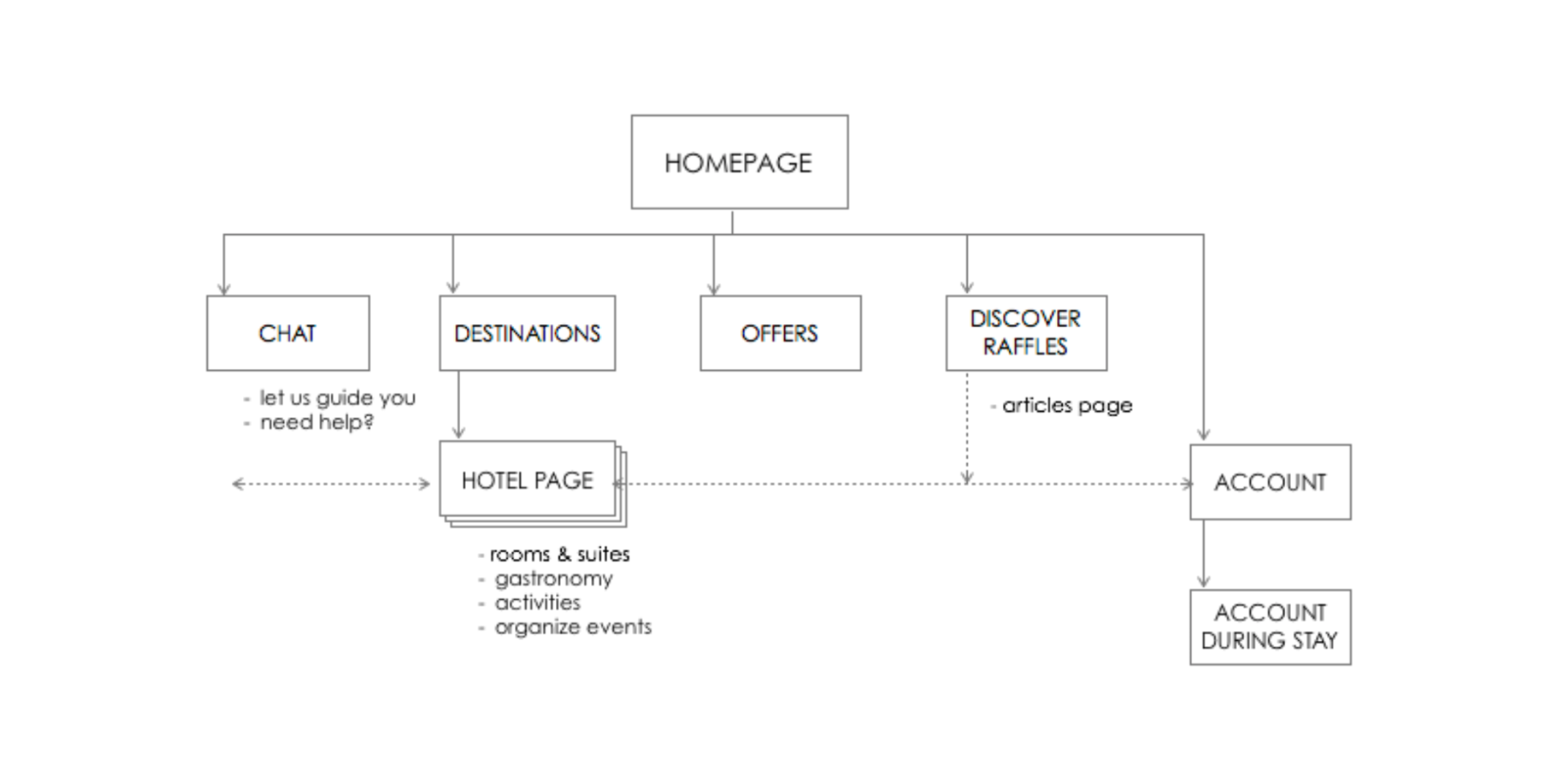 All the website was designed around the idea of an easy access to content. 
The global flow is designed to guide people discovering the hotels, but keeping a one-click access to booking. 

We also considered the different needs when it comes to targets: that's why there is multiple entry points.
There is also some cultural specificities features, for Chinese clients: 
The vocal writing, payment with Wechat.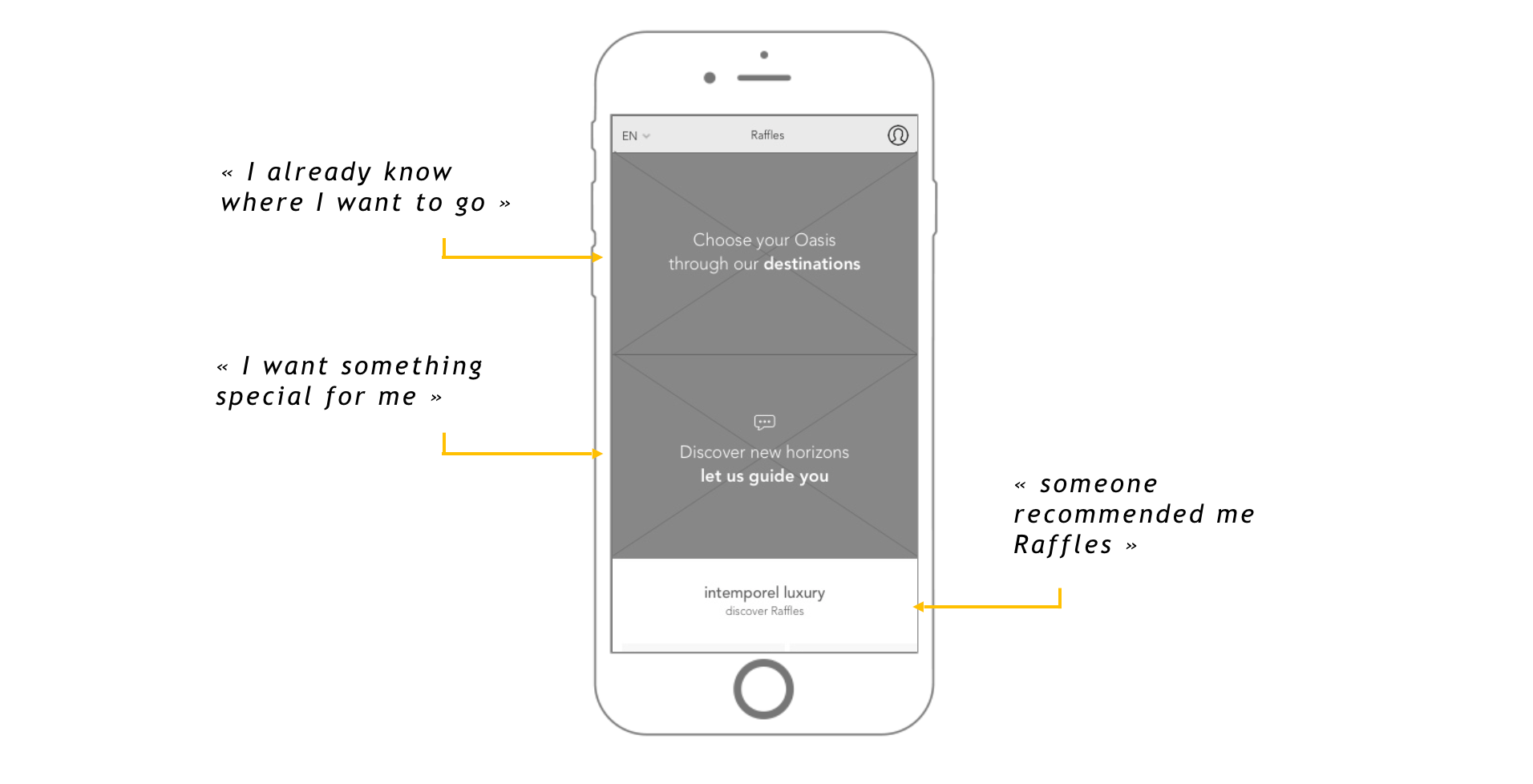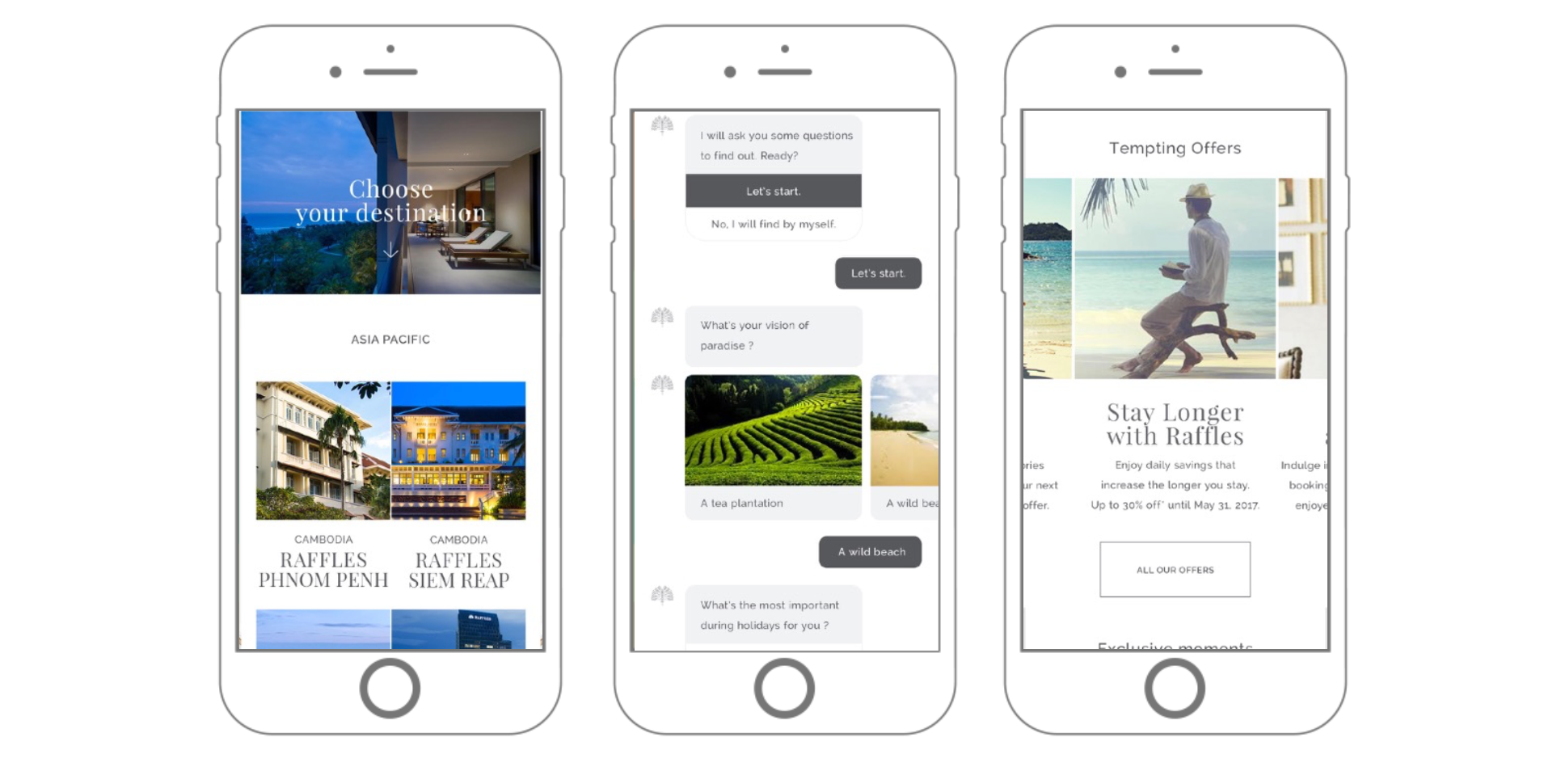 A true Personal Assistant
The relationship with luxury is now a continuum.
Today, a lot of websites have an automatic chatbot, that is almost jumping on us to ask if we have a question but this is actually pretty annoying considering the fact we didn't had the time to look a what we were looking for in the first time.

We wanted to think a "luxury" vision of this help. Something that would have a complementary role between digital and physical.Beyond the chat to help guests, Raffles.com should be an asset at every step of the travel organization: from booking to the end of the stay.

So the main idea was to begin with a well configured Chatbot, to help you decide your hotel for instance, or giving very specific details if needed, but as soon as a reservation is about to be made, the Chatbot puts you in conversation with a real-time answering Butler from the hotel. 
That way, if you need any extra help during your stay, you have someone to reach easily.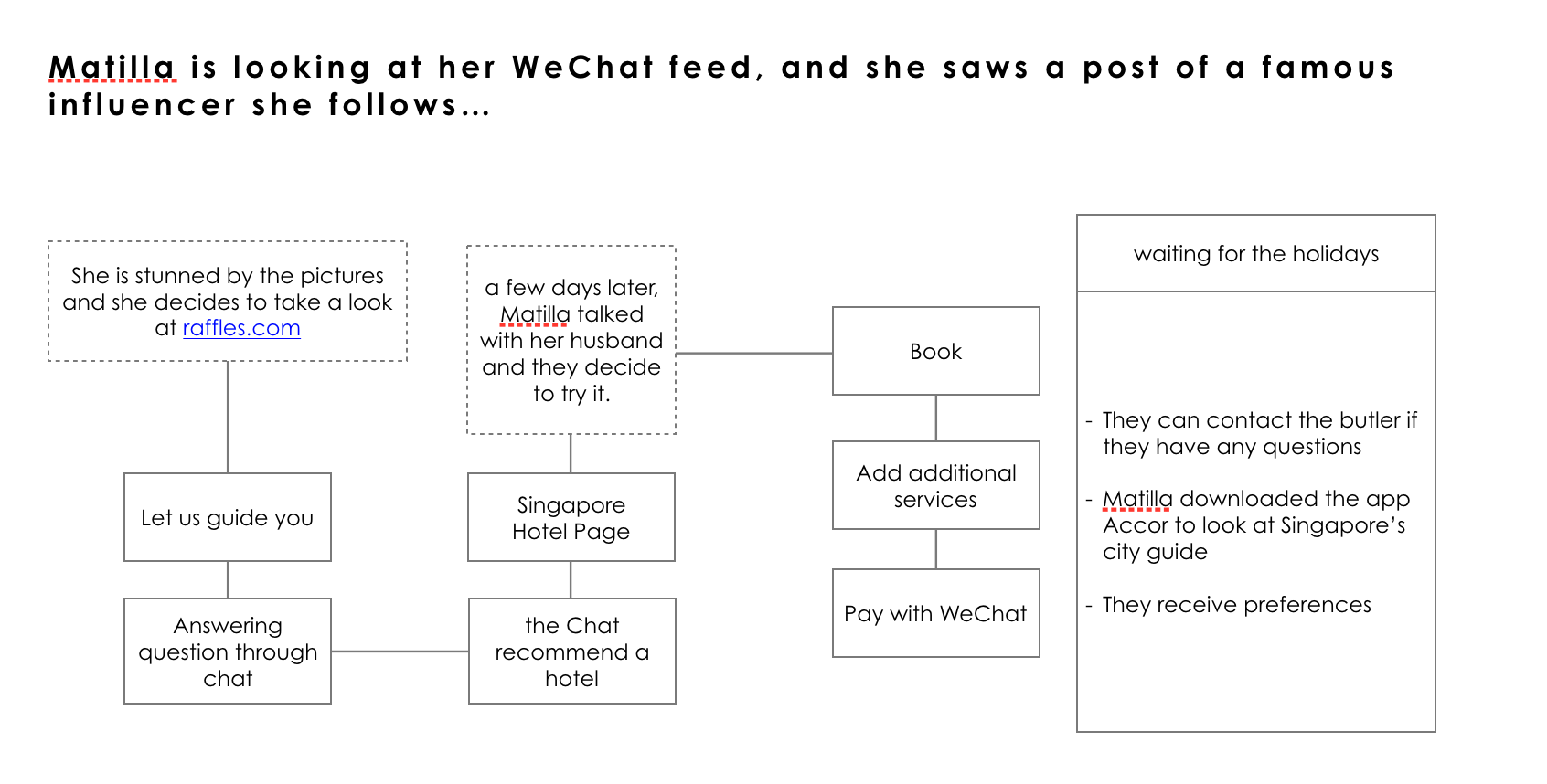 Mobile first experience booking
Today,
the internet is clearly mobile
 (53,2% worldwide connexions are from smartphones).
That's why, worked on a mobile first approach, especially for the booking. People want to be able to book trip on the go, easily, everywhere. The funnel was highly personalized, allowing people to reserve rooms easily, but also dining options and other experiences the hotel may have. 
Due to the high prices of the rooms and the target, the reservation can be made by someone else, like an assistant, and options regarding this specific use case were considered and included.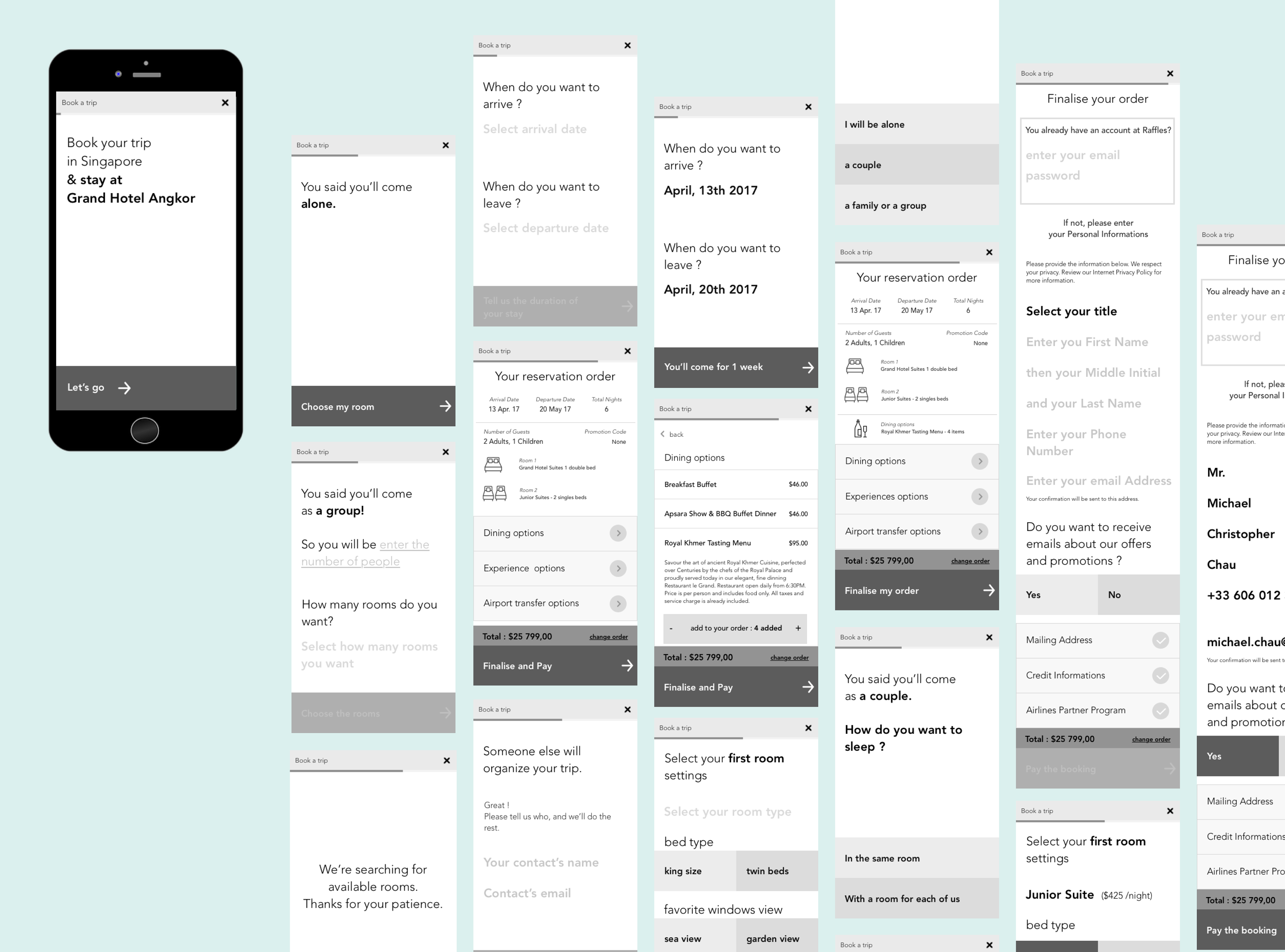 There was a lot of high conversion potential content, but hidden.
So we bring those- to the front of the stage :  Big pictures, contextualized content, fun fact and shareable knowledge.

We also envision some strategic tweaks, like the "Enhance your stay" feature. 
We notice some of the Raffles booking options are extraordinary experiences (some included helicopter airport shuttle!) so we decided to use it as an appealing argument, rather than just a booking option.
Those experiences can know create desire and trigger some booking impulsion.