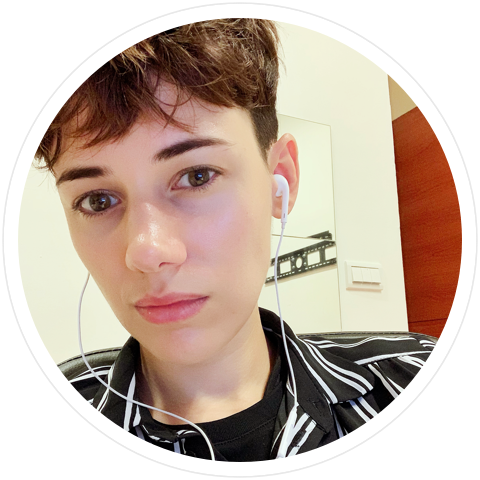 Designing experiences and products for 10 years.
I'm into service design, human-machine interactions & seamless interfaces. I stand for inclusive & accessible solutions.
I studied visual communication, project management and I have a master's degree in digital strategy.​​​​


I ask a lot of questions.
I like to find the hidden problem behind what is asked for.
I work to make products and websites more useful, inclusive and nice
for everyone
.
 I reformulate brand needs from a user standpoint.
I do service design, user-flows, wireframes, UI design and prototypes. 
I believe in flexibility for methodologies.
It's often a mix between Genius design and User-centered design: different layers of each one depending on the project, the goals, the team, planning and budget. 
I also like the Atomic design approach.
I'm flexible concerning workflows and can coordinate creative teams
My background as a Project manager enhanced my communication skills for teamwork, especially remotely.
I worked with Art Directors, UI, creative and front-end developers, copywriters, Product owner and I have experience in junior's management and mentoring.  
I help people talk with each other and try to make everyone's life easier! 
You can call me for 
a new project
, a
product pivot
, if you need some 
consulting, 
audit your current solutions,
or make a sold idea become real with
production phase
.
​​​​​​​
📝 Side projects
& random accomplishments 

I like to challenge myself with new things.
Basically, this is why I'm freelancing: to keep a balance between my work and my personal projects.
Currently...
→ Still in Taiwan, improving my Mandarin 
→ Creation of
Jetlag
, a podcast with
Qualiter
→ R&D on AR possibilities 
2019    
→ Built the iOS app
Walk in Bangkok
from scratch with my partner
→ Started learning Mandarin (我學中文) and moving to Taiwan 
2018    
→ Relocation in Bangkok 
2014 
•  Creation of a video games podcast
Lag à Part
, diffused by @RadioKawa during 3 years
•  Member of the
Belleville Whisky Club
And before all that.... 
• Actively invested in Street Fighter IV tournaments 
• I was an host for the Bargaming association (video games event)
• Writer for several video games blogs, covering events & writing tests 
• Studied Ballet in a day sport school during middle school
• Qualified myself for national championship of gunning at 10 and 11 y.o (and YES I'm very proud of this)
🎮
when I'm not working... 

Most of the time, I love just being at home, drinking good coffee
and playing video games.
(time consuming immersive stuff like Monster Hunter, Skyrim, Civilization, some 4x, X-com, Street Fighter, and indie good stuff. 
As it's clearly not enough to describe a life, here is more:
watching alternate genre movies or animes, reading Sci-Fi or sociological books (mostly), riding crazy roller coasters, playing Taiko no tatsujin in Arcade stations, putting emojis everywhere, eating great food (I'm into healthy bowls), working out, trying weird ice cream flavors, thinking about robots and A.I and petting my fantastic cat.
*About my name
you may have known me as Chloé before. As a non binary person, this name now makes me feel uncomfortable.
It would be very kind of you to use my nickname instead, Chlo, or my new name to be, Chlovis. It will also be appropriate to refer to me as "he" rather than "she", though I am not going to be upset or angry if your forget. I'm aware that it can be difficult to change habits for some individuals, it should become much easier over time. Please take in consideration that this has been a very difficult decision for me to make, and I truly appreciate the support and understanding you provide. 
I'm still the very same person inside, this has, of course, nothing to do with my work abilities, it's just a matter of the best words to use.